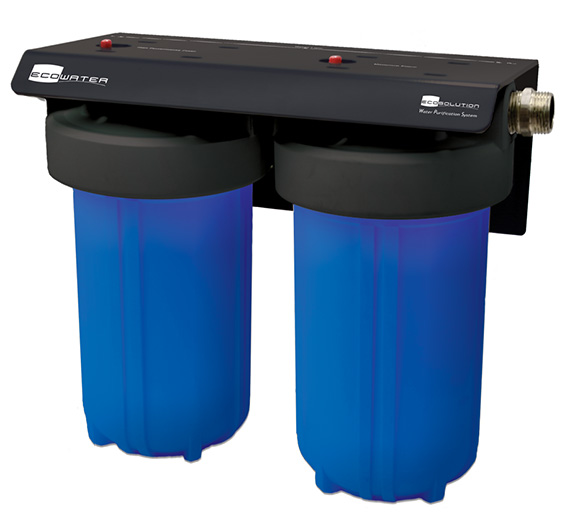 Eco Solution
Developed to produce optimal water quality for everyday use.
This filter system consists of several different components which together form a compact and very effective water purifier. All components are manufactured by reputable international manufacturers and purification properties are thus extremely well documented. The system is powered only by water pressure, power is therefore unnecessary.
The unit is very suitable for schools, health stations, staff camps, food production etc., where consumption does not exceed 1500 liters per hour.
The system removes:
Bad smell

Bad taste

Bothersome color

99,99% of pathogenic bacteria

((E.Coli, salmonella, legionella, cholera, shigella, typhoid))

99,999 % of parasites

(cryptosporidium, giardia)

Some heavy metals like lead and iron

97 % chlorine

99,7 % turbidity

Particles

Humus
The system also reduces the level of certain hazardous chemicals and heavy metals. This system will in most cases be able to produce drinking water quality. For optimal drinking water quality we recommended our Eco Friendly water purification unit.
Specifications
Capacity
1.500 liter pr. hour at 4 bar pressure. Filter replacement after 100.000 to 150.000 liters or approximately 12 months of daily use. To be installed on the water intake. The unit does not tolerate frost.
Measurements:
Width: 38 cm
Depth: 21 cm
Height: 32 cm
You may also be interested in...
Eco Water AS
Focusing on quality
Eco Water is working with customers in the retail and service industry, agriculture, dental, marine and offshore industries.
Eco Water is, through continuous improvement, innovative and strive to meet our customers requirements for service, quality, environmental concerns, documentation and delivery.
Eco Water strive to be environmental and energy conscious and we always aim to reduce adverse environmental impact through our products and solutions.