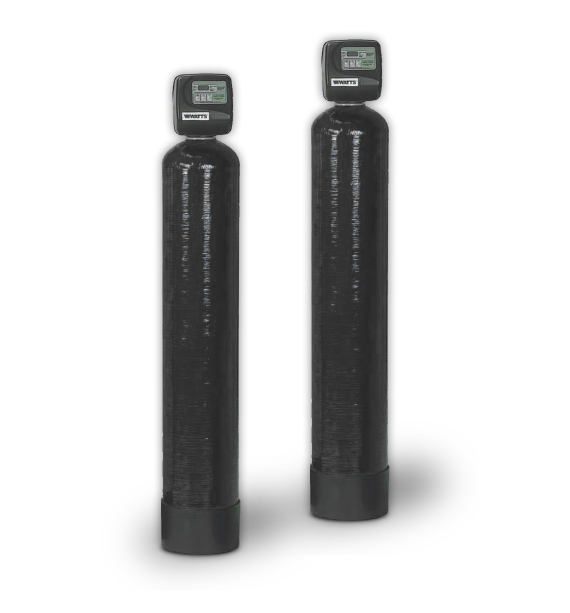 Eco FM Filter
A super-efficient filtration system for removal of iron (Fe), manganese (Mn) and hydrogen sulphide (sulfur).
The purification media implemented in Eco FM filter is very effcient and have a life span of over 5 years with daily use. The filter is automatically (or manually) "cleaned" as needed, a fact that contributes to the systems long life span. Eco FM filter uses a non-chemical oxidation media for the reduction of iron. The system can be delievered in different configurations, tailored to your specific needs.
The system is suted for water with pH values between 6.5 to 9.0. Easy to install and requires no expensive service deals. The controller is easy to program and is pre-installed with 10 programs for flushing/self-cleaning.
Included:
Black composite tank, control unit with simple settings manual, fittings to control unit, risers, cleaning media. (John Guest quick connectors available separately)
Specifications
Capacity
20-60 l/m water. Minimum 5 years life span with daily use, before media change.
Measurements
Tank size:
H: 125 – 160 cm
D: 25 – 55 cm
Needed floor space and height:
H: 140 – 180cm
D: 25 – 60cm
L: 45 – 60cm
You may also be interested in...
Eco Water AS
Focusing on quality
Eco Water is working with customers in the retail and service industry, agriculture, dental, marine and offshore industries.
Eco Water is, through continuous improvement, innovative and strive to meet our customers requirements for service, quality, environmental concerns, documentation and delivery.
Eco Water strive to be environmental and energy conscious and we always aim to reduce adverse environmental impact through our products and solutions.