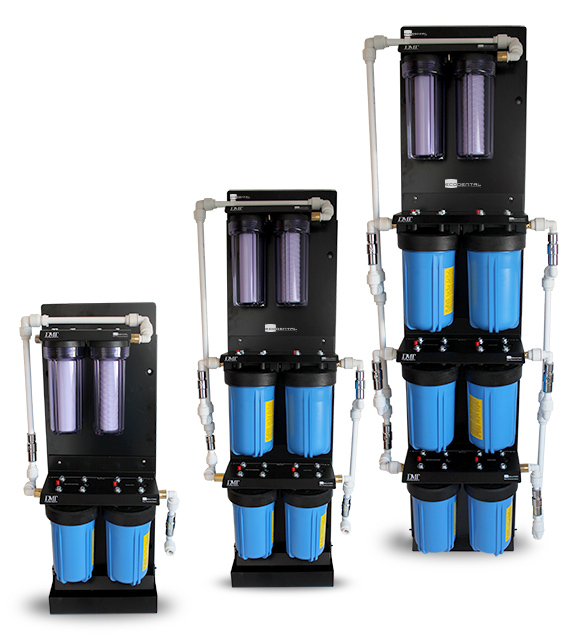 Eco Rack Unit
Rack unit developed to deliver optimal water quality.
The unit is delievered preassembled with pipes, fittings and taps. The only plumbing needed is to connect the unit to the inlet and outlet. Supplied flexi hoses with 3/4" female pipe threads makes the job easy for the plumber. The unit has a convenient drip tray at the bottom to avoid spills when changing filters. The unit is delievered with 2 pre-filter (5 and 1 micron filters), followed by the unique Eco Solution water filter technology to ensure safe and pure water.
All components are manufactured by renowned international manufacturers. Purification specifications are well documented. Operated solely by water pressure.
The system removes:
Particles, humus and other sediments

Bad smell, bothersome color og bad taste

99,99% of pathogenic bacteria

(E.Coli, salmonella, legionella, cholera, shigella, typhoid)

99,999 % of parasites

((cryptosporidium, giardia)

97 % chlorine

99,7 % turbidity
The unit also reduces the levels of some dangerous chemicals and heavy metals.
Specifications
Capasity
1.500 - 4.500 litesr pr. hour at 4 bars pressure. Filter change recommended every 12 months (daily use). The unit is to be installed on the water intake.
Measurements
Small; H:97 W:40 D:20
Medium; H:141 W:40 D:20
Large; H:178 W:40 D:20
You may also be interested in...
Eco Water AS
Focusing on quality
Eco Water is working with customers in the retail and service industry, agriculture, dental, marine and offshore industries.
Eco Water is, through continuous improvement, innovative and strive to meet our customers requirements for service, quality, environmental concerns, documentation and delivery.
Eco Water strive to be environmental and energy conscious and we always aim to reduce adverse environmental impact through our products and solutions.